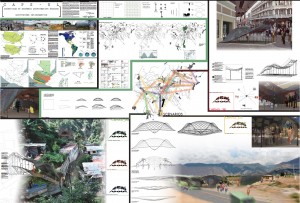 CAPS ˑ UL : A Mobile University
[Consortium of Academic Performative Stances ˑUniversidad Latinoamerica]
LatinAmerica, once a primarily rural region has become predominately urban due to population growth.  The agriculture dominated 2011 economy has been disrupted due to the urban expansion.  People once living on farmland have moved to the cities to find work.  These people inhabit the informal settlements where there is a lack of connection to transportation networks, services, and educational centers.
An increasing need for universities to communicate with the periphery in local urban networks has led to the creation of a consortium by the universities in Guatemala City that allows them to facilitate the transfer of knowledge and become moderators of a network based on informal knowledge and economies.
This consortium calls for an organism to be created that becomes the binding factor between universities and the city.  The new classroom typology prototype designed for 2048, the CAPSˑUL, is an extension of the universities and becomes the interface through which the periphery communicates.